When it comes to patterns, stripes are your best friend. They're the easiest to wear and they transcend seasons. Which brings us to the reason why having striped pieces in your closet is a must. If you fear prints and patterns, a simple Breton shirt may be the best option to ease you into the world of stripes. Be warned, though. Once you've dipped your feet into the territory, we guarantee you won't want to turn back.
There are many ways to rock stripes. Here are 9 easy ways that'll ensure you wear them with style:
Look Preppy in Classic Breton
When it comes to stripes, the most basic one to have would be a classic Breton tee. But we urge you to take it a step further by pairing the piece with a bold coat.
2. Dare to Double
Up the ante by mixing two different stripes together. A quick way to do this is with a dress printed in different styles of stripes. You can also layer with striped separates. The key to pulling off the look is to use pieces with the same set of colours. Punctuate the pairing with standout heels for good measure.
3. Look Lean in Skewed Lines
Slim diagonal stripes are flattering to the figure. They elongate the body by creating an illusion of slenderness. For an extra kick, select bright pieces or accessorise with standout accoutrements.
4. Single Lines Are Just as Fine
A single stripe is just as fine as recurring stripes. Go with pieces that feature striped borders or accents, such as a cape, sweater, or a pair of tuxedo trousers. Pick separates with accents that pop to keep the outfit nod-worthy. This option is great for my ladies who are not too keen on patterns.
5. Stripes & Dots
We love polka dots just as much as we love stripes, so why not mix them together? The easiest way to pull this off is to stick to patterns within the same color palette. Top off with a bright purse or pair of shoes, and voila! You're all set. Of course, if your goal is to create a statement, then wear your dots and stripes in clashing hues.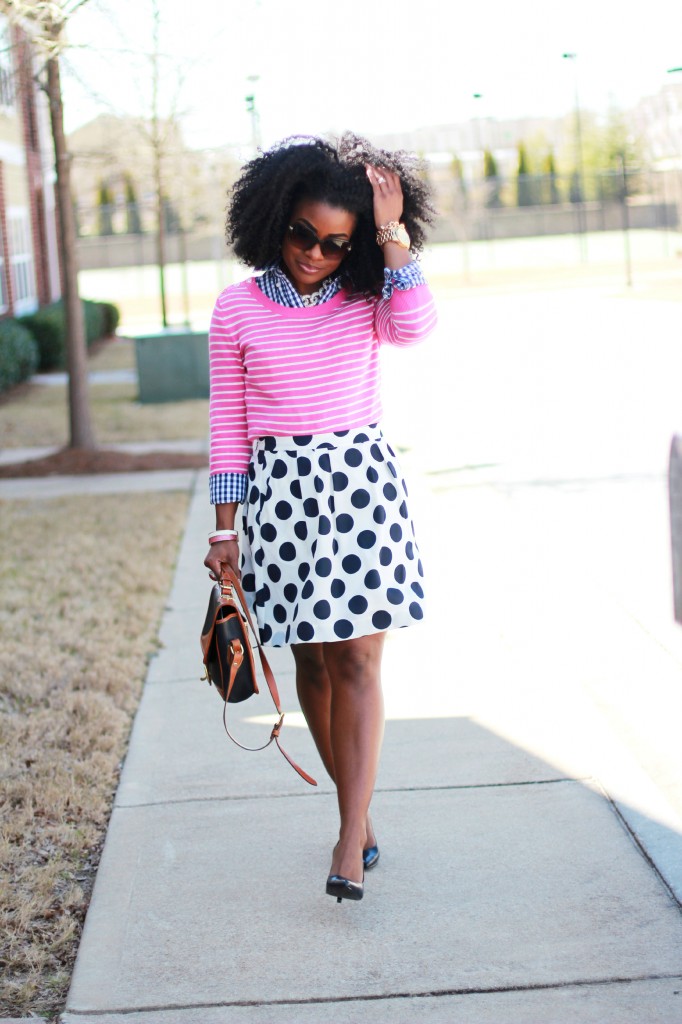 6. Polish Up with a Stripe Suit
Stripes add polish when you need it. Dress down a business-worthy pinstriped suit by capping it off with unexpected extras – like these platform kicks on Chiara Ferragni of the Blonde Salad below.
Now if you want to be a little more playful, try matching separates that come in thicker bolder stripes. Pair the suit with fancy stilettos to let them know you mean serious business.
7. Mix Stripes with Floral
Whoever said you can't wear stripes with floral? It's a refreshing mix that'll leave you wanting more. You can go about this in two different ways – stick to one color palette, or keep one pattern as classic as possible while the other as colourful.
8. Have Fun with Multicolour
There's nothing more fun than a cocktail of colours rolled into one standout piece. Dare to excite by wearing a multicoloured striped dress or skirt, then throw on a denim or leather jacket to tone things down. Voila! You're all set!
9. Make a Statement with Bold Stripes
Stand out by topping your outfit with a coat printed with thick bold colourful stripes that are guaranteed to turn heads. You won't need much after a piece like that. It's the perfect statement to cap off a simple wardrobe. Finish off with neutral accessories for a good polish.