Authentic Preowned Chanel Bags. We all love Chanel, right? Maybe it's the CC emblem, the quilted leather, the iconic tweed, or the beautiful leather-woven chain straps… Whatever it is that captures your heart, let's face it, we all want a Chanel bag! But should you really consider spending the money? Um, yes! You should! Chanel is a classic, you literally can't go wrong with any item purchased from the design house. This is good for you because it means several things for you and your pocketbook that make a Chanel handbag an amazing purchase.
Why You Need One Now
1. It will never go out of style! It's a classic for a reason.
2. It will last forever! Especially if you invest in the calfskin leather also known as caviar– those are nearly bulletproof.
3. Everyone will want to know about your bag! And I mean everyone. Party? Train Station? Work? You betcha!
4. Your bag could be worth more next year! Chanel regularly increases their pricing, meaning resale value for you!
Why Buy an Authentic Preowned Chanel Bag?
Authentic Pre-owned Chanel Bags. The resale market for Chanel is huge. You can purchase a bag at a discount from the original price. Of course, so since the bags go up in price nearly every year, your bag will retain its value – new or preowned. But beware- because there is a large market for preowned Chanel bags, there are many websites offering discounted "preowned bags" in "nearly new" condition that are actually knockoffs.
Buy latest fashion trends of handbags.
It is important that you stick with websites you know validate authenticity cards and inspect every item for defects and quality. I personally love Vestiaire collective, they check every item before they send it to you– ensuring your purchase is authentic! Another good thing about Vestiaire is that you could even buy on credit through them and pay monthly over a period of time.
SHOP THIS LOOK
Which Chanel Bag Should You Buy?
I have curated the top 5 styles- classic and beautiful designs. I have also included links where you can find authentic preowned bags as well as basic design information every Chanel lover should know!
1. Chanel 2.55 AKA The Original Chanel Shoulder Bag
Arguably one of the most iconic Chanel bags, named after the date it was designed, February 1955, by Coco Chanel herself. The continuous looped chain allows for the bag to be worn as a shoulder bag or a crossbody. Coco Chanel designed the original Mademoiselle lock with the new CC emblem lock debuting in the 80s when Karl Lagerfeld launched the spin-off Flap Bag. The 2.55 features an all chain strap – an original design detail. They come with hardware of either gold or silver. Authentic Preowned Chanel Bags
SHOP CHANEL 2.55
2. The Classic Flap Bag
Available in a variety of sizes, colours and style variations (top handle or no top handle), the Flap Bag is a Chanel style staple. Karl Lagerfeld introduced the Flap Bag in the 80s including the redesigned Mademoiselle lock and a leather-woven chain strap. The Flap Bag was Lagerfeld's spin on the original 2.55 bag. These two bags can be told apart by the lock: 2.55 features Coco Chanel's original Mademoiselle lock while Lagerfeld's features the now iconic CC emblem lock.
The Classic Flap Bag is available in leather (Lamb and Calfskin), PVC, exotic skins, suede, fur, and a selection of fabrics such as tweed, silk, denim and wool. The hardware is also available in gold, silver, pewter or black.
SHOP CHANEL CLASSIC
3. The Wallet on Chain (WOC)
Part of the flap bag family, this bag may be called wallet on chain but it is so much more! The bag features several pockets and zippers to hold all your items and is surprisingly roomy for what would seem a small bag. The WOC also comes in a variety of sizes, styles, and color, making it the perfect bag to add a pop of color to your outfit.
SHOP WALLET ON CHAIN
4. Gabrielle Backpack
Lagerfeld launched the Gabrielle collection of bags in the spring of 2017, a design inspired by virtual reality headsets and vintage binocular case. The collection marked the first new major collection of bags from Chanel since the launch of the Boy Bag in 2011. The collection comes in a variety of shapes and sizes including the Backpack and the Hobo bag. Chanel collection features a quilted design with a tonal or two-tone leather-woven double looped chain.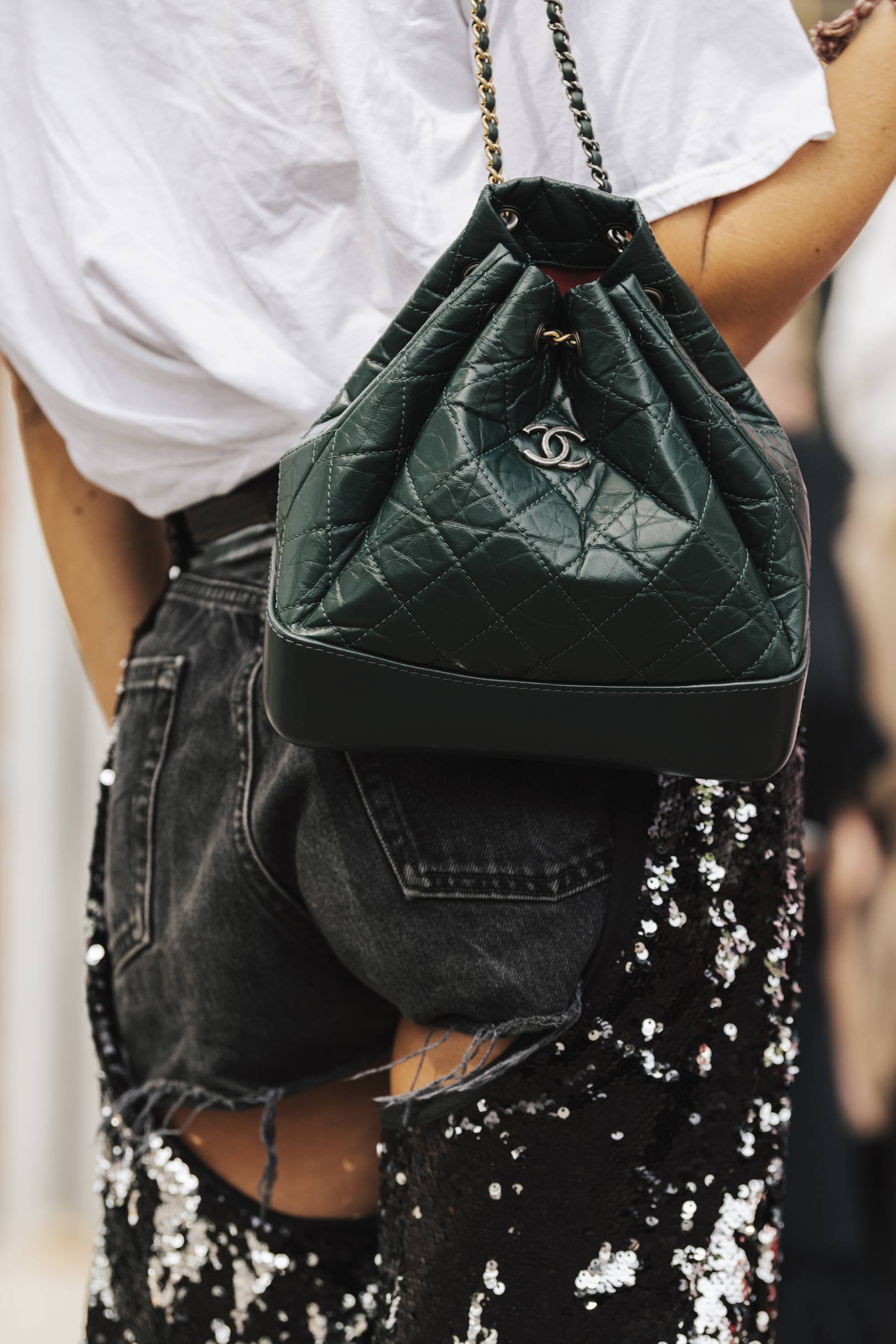 SHOP GABRIELLE BACKPACK
5. Gabrielle Hobo Bag
Part of Chanel's newest collection, this Gabrielle bag has become a quick icon. The bag comes in a variety of sizes and shapes featuring leather, sequin, tweed, and satin. This bag is also extremely convertible. The double looped chain allows for a variety of ways to wear the bag: shoulder, crossbody, waist, or scrunched like a backpack.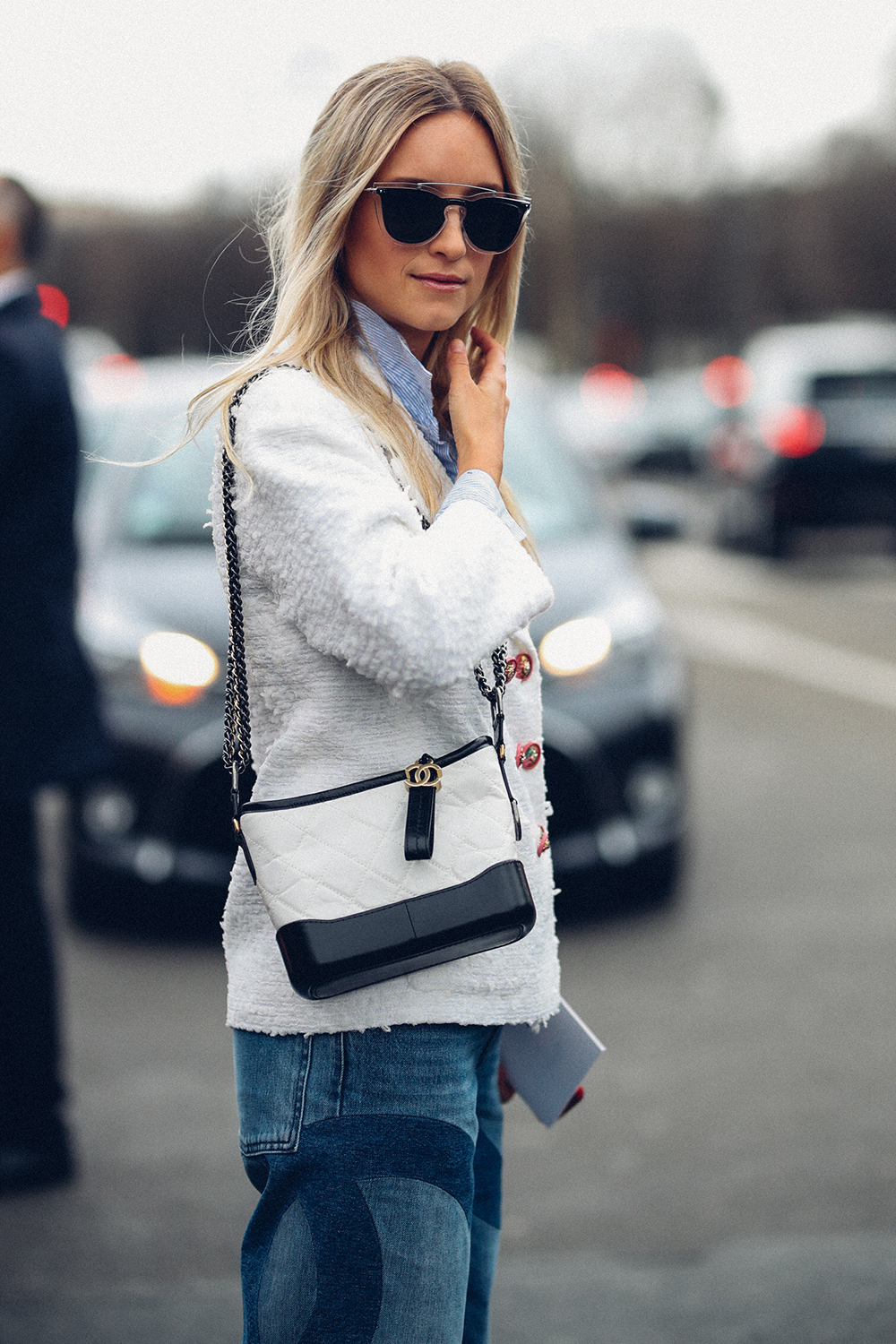 SHOP GABRIELLE HOBO